PROTOJE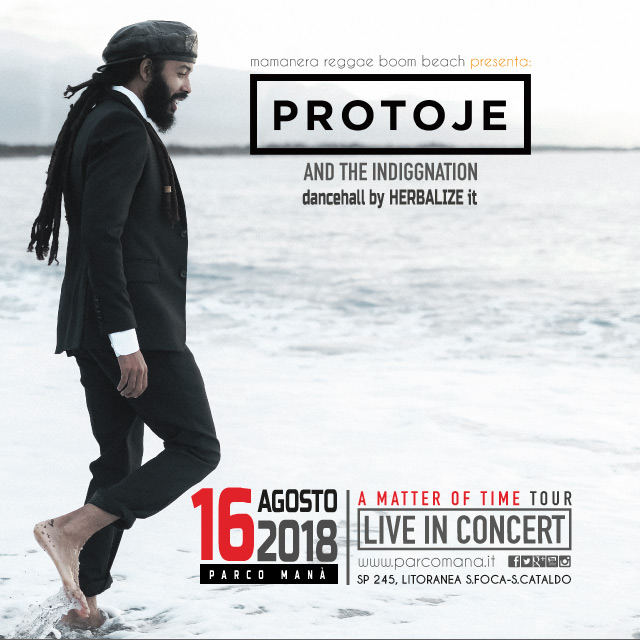 There is an exciting resurgence of conscious, organic music in Jamaica and industry experts and fans alike agree that Protoje is among those at the forefront of the movement known as the 'Reggae Revival.' Leading the militant band – The Indiggnation – the powerful songwriter and philosophical thinker articulates the righteous anger of an emerging generation. Protoje reports for duty,
re-establishing the standard for the decaying art of socially responsible, mentally stimulating lyricism.
Referring to Protoje's debut album, The Seven Year Itch, David Rodigan declared that he was "particularly impressed with the album," which he thought was "very refreshing." Rasta Love featuring Ky-Mani Marley was the first international hit, which has accrued over 30 million Youtube views.
Two years after the proverbial itch was scratched, Protoje unveiled his sophomore album called 'The 8 Year Affair' in February 2013. Within a week of its release, the Billboard-affiliated 'Next Big Sound' chart listed Protoje at #4. According to the official website, 'Next Big Sound' measures "the fastest accelerating artists across all major social music sites, statistically predicted to achieve future success."
'The 8 Year Affair' also charted in the top 5 on the iTunes Reggae charts in the USA, UK, France, Germany, Spain and Switzerland.
His third studio album, 'Ancient Future', hit number one on the Reggae Billboard charts in March 2015. Protoje was undoubtedly named as one of BBC 1xtra Hot for 2015 Artistes, one of his major achievements for the year. Protoje gave his fans a free project, 'Royalty Free, Side B' in June 2016 on his birthday as a gift to his fans, who he describes as his 'nation', which is available for download on his website.
Protoje has toured extensively since 2010, gaining recognition every step of the way and admiration for his disciplined approach to his music career. Major performances include the Sierra Nevada World Music Festival in California, Coachella in California, Summerjam and Reggae Ruhr (which he headlined) in Germany and other festivals across Europe.
Protoje and The Indiggnation are coming to your nation, on a mission to bring Roots Rock Reggae's message of uplifting consciousness to the world.